To International Students
Our school, now in its 54th year, is a vocational school that aims at fostering professional designers and creators. In order for us to provide a relaxing learning environment for all of our international students, we employ staff who work in their respective fields in Japan and provide a curriculum that allows students to learn through practical courses, from the fundamental techniques to the current cutting-edge techniques of Japan. We implore you to participate in one of our Open Campus events. We are now accepting questions from and providing consultations for students who are interested in participating.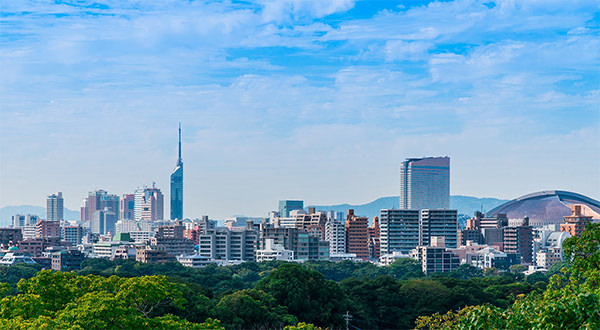 Fukuoka:
A Highly Creative City
Our school, now in its 54th year, is a vocational school with the longest history of any school in the creative fields in the Kyushu and Okinawa regions of Japan. Fukuoka, where we are located, is a city with extremely active creative industries. The city of Fukuoka has touted its vision of "Fukuoka: A City of Global Startup", and is tackling a variety of initiatives to become a leading city in Asia. Fukuoka has garnered attention from around the world thanks to its large number of major video game publishing companies and film production companies and its large number of creative talents.
Also, students love Fukuoka because it is an easy place to live, as living expenses, such as for rent and commodities, are among the lowest in Japan. Fukuoka has over 30 vocational schools, universities, and junior colleges where students can learn information technology and design, and it has the second largest number of students per 1,000 people among government-ordinance-designated cities in Japan.
Moreover, Fukuoka provides extremely easy access to the world outside Japan, as it only takes a 10-minute subway ride to get from the airport to the center of the city. Its convenience is not the only reason why it is a popular city; it also provides an attractive environment where residents can fully enjoy their days off, as it is near the sea and mountains.
International Student Interview
International Student
China → Enrollment to NDS
殷 紫月(YIN ZIYUE)
Comic Illustration Program
From Sichuan International Studies University, China
I decided to study abroad because I like Japanese anime and games and wanted to experience the culture while studying.
I started studying Japanese because I wanted to find work in illustration or a job in game creation in Japan. I decided to study abroad because I felt I would learn faster if I immersed myself in the culture by studying in Japan. When you don't understand something during class, the teachers are happy to repeat it for you if you ask and give you advice. There is a lot of delicious food in Fukuoka, and the transportation is really convenient. Rent isn't too expensive either, so I think Fukuoka is a really nice place to live!
Supporting your student life in Japan
Teachers and staff will support you so you succeed both in and outside the classroom!